1925 Bentley 3
8 Litre Special
(World Record Breaking car)
• Ultra-rare British competition car 
• Regularly campaigned in historic races 
• Registered in Germany 
• UK V5 
• Engine number: HM2865 
• Chassis number: 1157 
8203 cc, 6 cylinder engine, with about 280bhp, 
4-speed Bentley gearbox converted with Dog type gears internally. 
The transformation
J.C.
Konig
, the mastermind behind this famous car, initially possessed it in its original 3-Litre form in 1965. However, he didn't settle for the status quo. Partnering with engineer John Guppy,
Konig
embarked on a remarkable journey of transformation. The result? A magnificent 8-Litre creation that left enthusiasts speechless. But the journey didn't end there
either
.
Konig
and Guppy continued to fine-tune and enhance the car, pushing the boundaries of its performance and design. Eventually, in 1986, the car found its new home with Vic Smith
and Stanley Mann,
thus
,
sealing its legacy of evolution and innovation. It's a testament to the relentless pursuit of automotive excellence.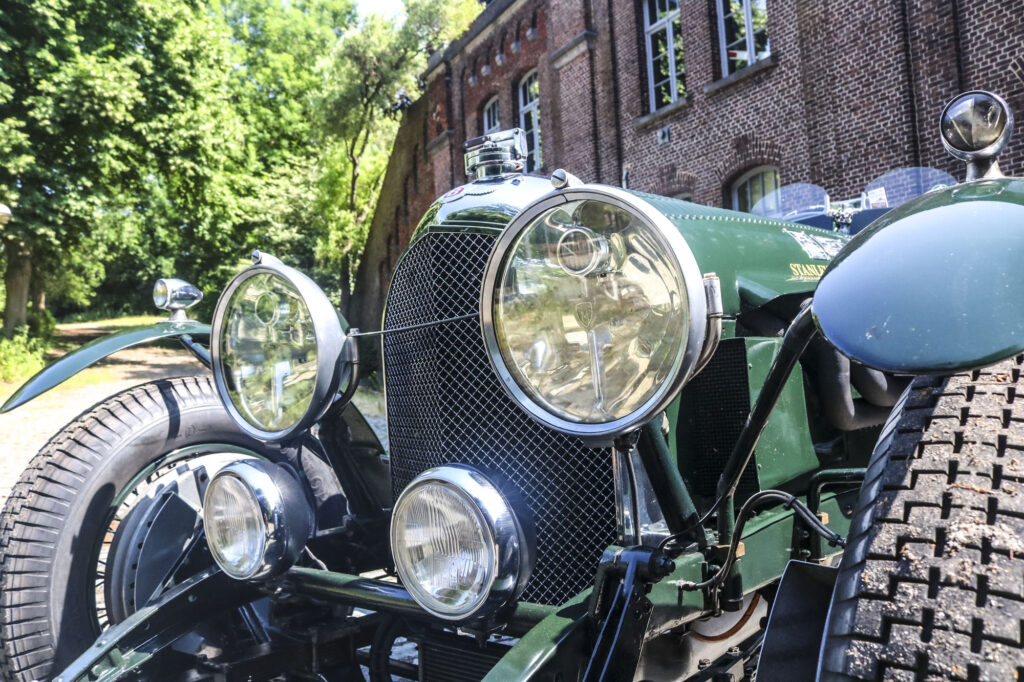 "FAST AS YOUR MUM'S KNICKERS
AT A TOM JONES CONCERT"
as Stanley Mann would have said, with a smile
on his face and a sparkle in his eye.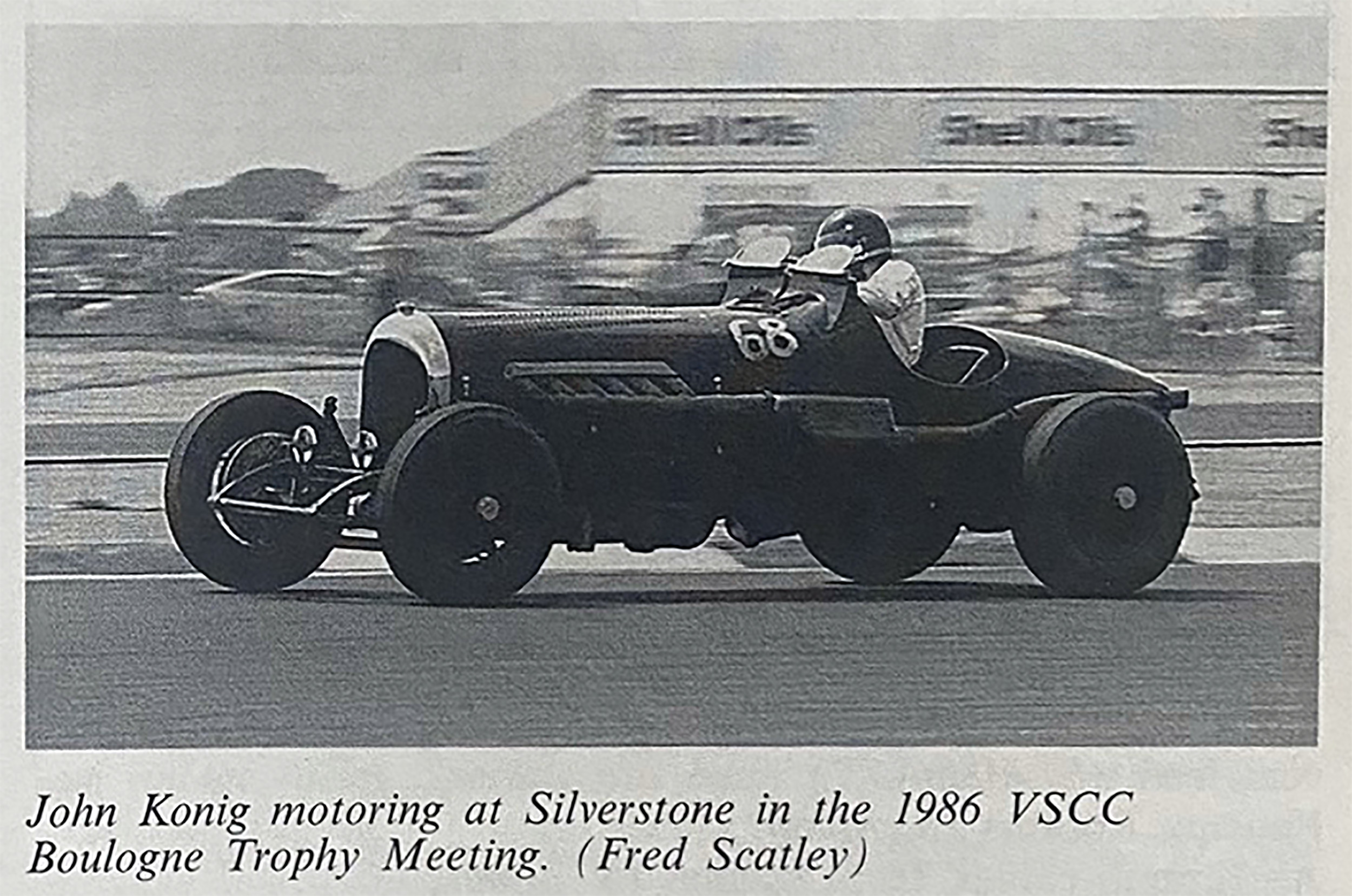 Achievements
In this form John ran the car for nearly twenty years, and in the 1980's achieved considerable competition success.
1983 Bentley Drivers Club (Silverstone)
Won the Novice Handicap

Won the McKenzie Trophy
1986 VSCC (Silverstone)
Boulogne Trophy Race

1st Bentley - five in the race

Won the Russ-Turner Trophy
1986 Wiscombe Park Hill Climb (VSCC)
3rd Vintage sports car over 3000cc
1986 Colerne Speed Trails (VSCC)
Standing start 1/4mile 15.77 seconds

Standing start 1km 28.46 seconds

Terminal speed 116mph

Fastest Vintage in Class
Stanley Mann's

record breaking
streak
In 1987, Stanley Mann acquired the car and enlisted the expertise of John Guppy to undertake a comprehensive rebuild, with the goal of setting new class A records. The entire vehicle underwent extensive reworking, incorporating numerous modifications. Despite facing numerous challenges and setbacks during the development phase, the car ultimately emerged triumphant and primed for record-breaking attempts. It went on to achieve three remarkable new records in 1988:
100 miles: Average speed of 115.53mph

1 hour: Average speed of 115.64mph

200km: 1h 4m 42s, Average speed of 115.26mph



The Record Certificates will come with the car.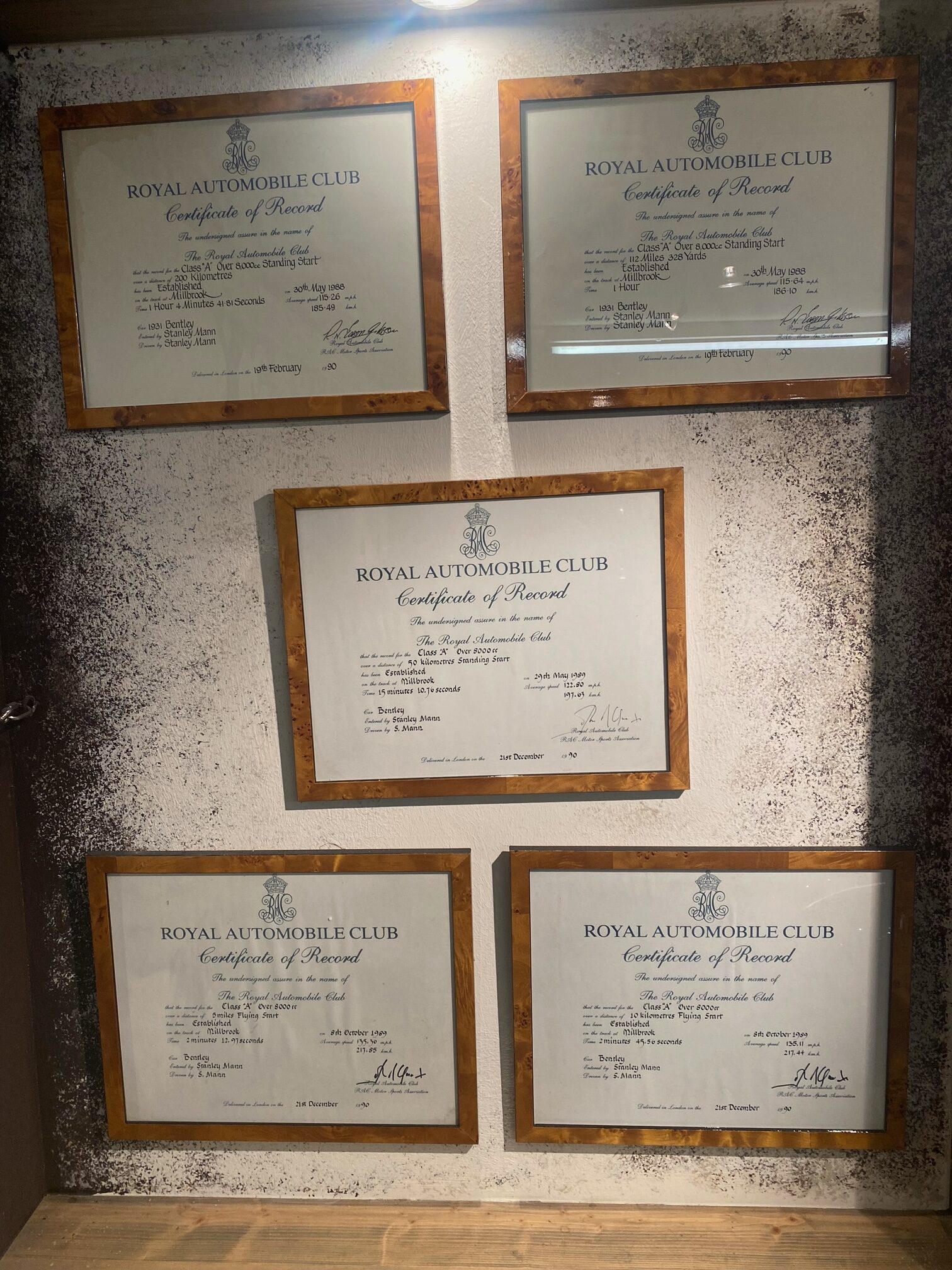 In May 1989, Stanley returned to Millbrook to attempt more records. Driving the 3/8 Litre car in the class A category (over 8000cc), Stanley covered the 50km distance from a standing start in just 15 minutes, 10.76 seconds.
This remarkable feat improved the existing record by 12 seconds, with an average speed of 122mph. It was a remarkable achievement that showcased Stanley's skill and the car's exceptional performance.
In October 1989, Stanley continued his record-breaking streak by setting new benchmarks:
5 Miles Flying Start, Completing the distance in an impressive time of 2 minutes and 12.97 seconds, achieving an average speed of 135.36mph.





10 Kilometers Flying Start, Completing the distance in 2 minutes and 45.56 seconds, maintaining an average speed of 135.11mph.




These exceptional achievements further solidified Stanley's legacy as a record-setter, showcasing the incredible capabilities of the car in terms of speed and performance.
In 1996 at Brooklands Action Day, Stanley drove the Bentley at a speed of 148mph.
Exterior
Crafted by Williams and Pritchard, the two-seater body of this car boasts an exquisite combination of aluminum and steel tube frame construction
The
impeccably applied paint remains in excellent condition. Enhancing its roadworthiness, the vehicle features fitted wings. The inclusion of two Brookland
's
screens
and a racing head cowl unmistakably signifies that you're in the presence of a genuine racing machine, ensuring an exhilarating and authentic racing experience.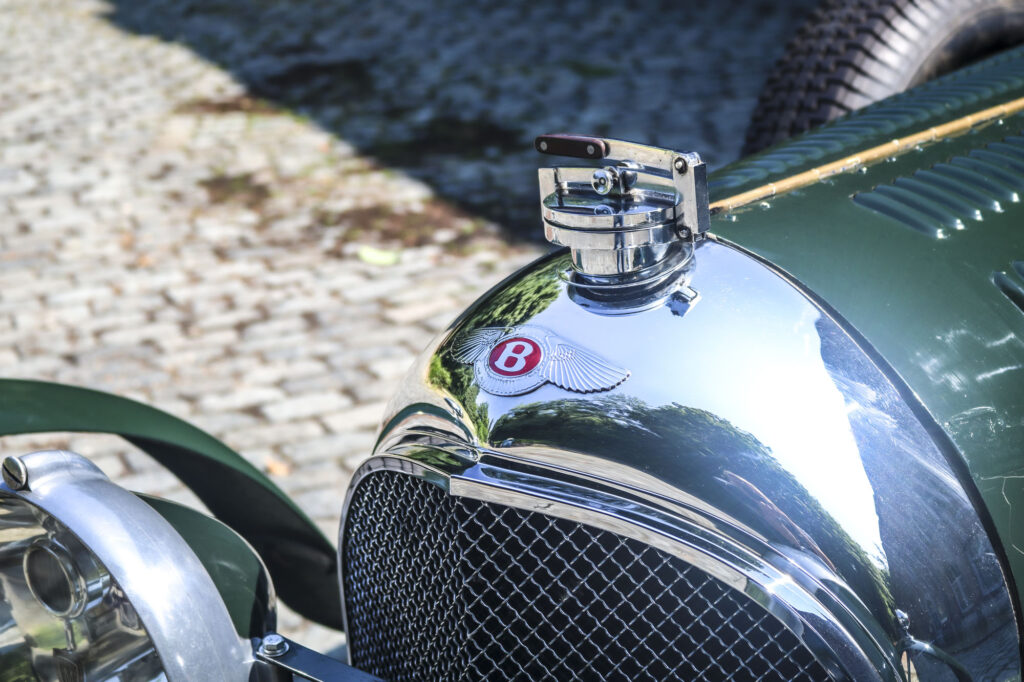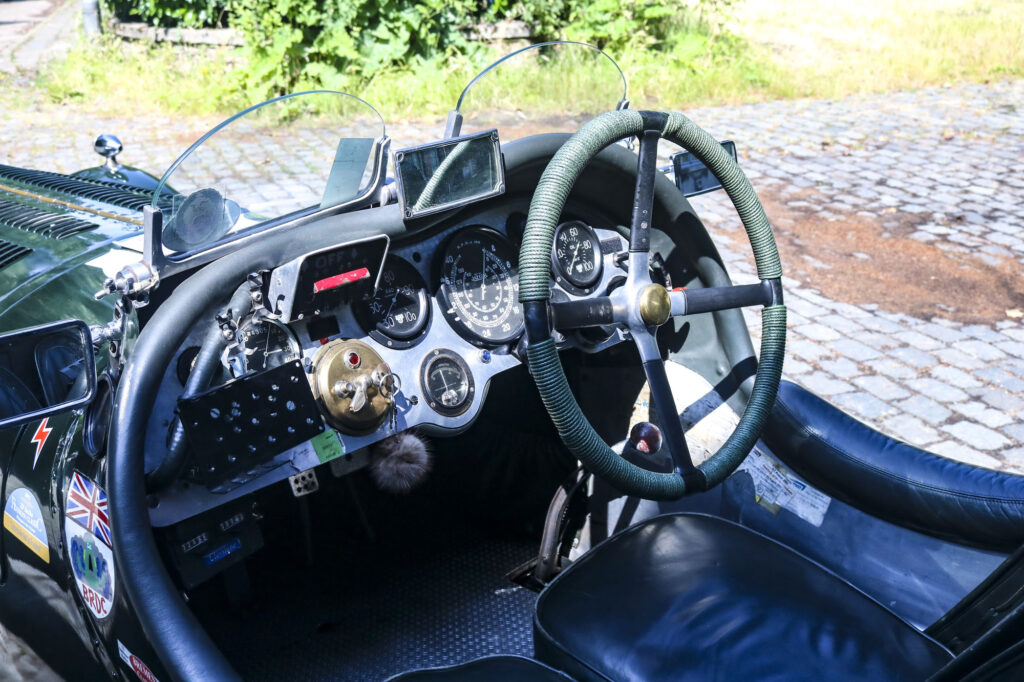 Interior
The green leather bucket seats, elegantly adorned with meticulous leather lacing, remain in impeccable condition. The aluminum dash, thoughtfully designed to house all the necessary gauges, provides a clear window into the inner workings of the engine. Additionally, behind the seats lies a storage area in the tail, offering ample space to conveniently store tools and luggage, making travel arrangements a breeze.
Mechanically
Despite its weight of 1371 kg, this car defies expectations with its remarkably light and agile driving experience. Even at low revs, it effortlessly cruises along, providing a
pleasant and smooth ride. However, when you unleash the power by pressing the accelerator, a whole new dimension is revealed. The car swiftly lifts off, propelling you into an exhilarating realm of speed and performance, where the boundaries of ordinary driving are transcended. Brace yourself for an unforgettable journey.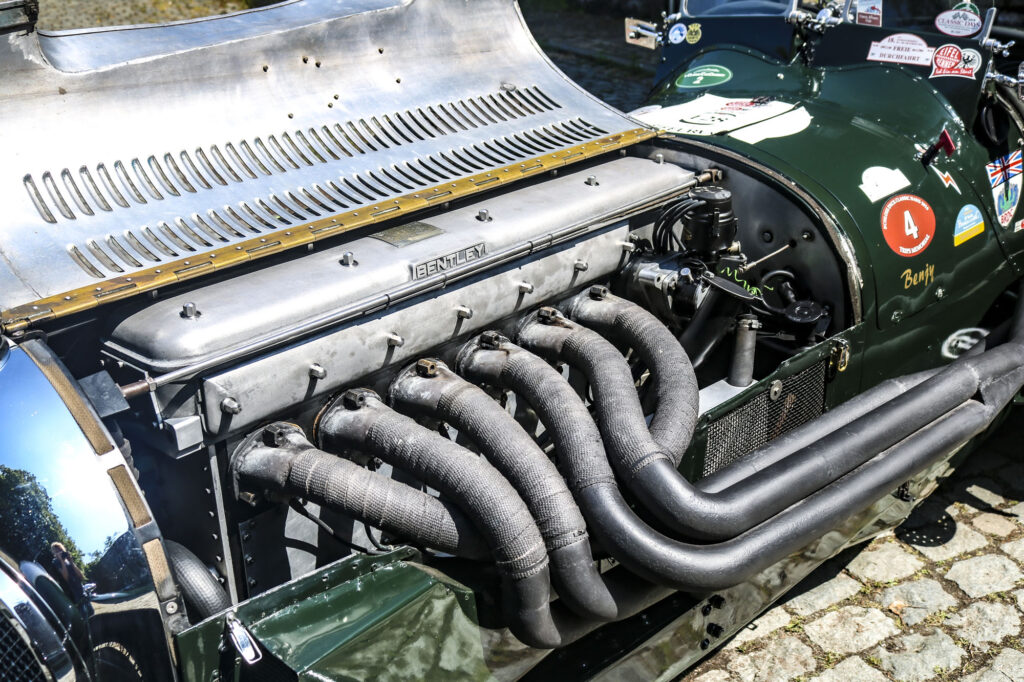 A few technical specifications
Laystall crankshaft

8.0:1 compression

Tubular

con-rods

Fabricated exhaust manifold

Three HD8 SU carburettors

Alternator replaced dynamo, still driven of frond of crankshaft

Twin Kenlowe fans

Twin Scintilla magnetos
Extra cooling radiator fitted along the rear side of the engine.

Phoenix Rockers

Anti-tramp cables

Lightened flywheel

Modified speed six crankcase
Once in a lifetime opportunity
This incredibly rare and historically significant British motor racing
artefact is a once-in-a-lifetime find. With its remarkable rarity, it stands
as an exceptional candidate for prestigious events like the Goodwood Members Meeting,
and continental rallies among others.
If you're seeking a dependable and high-performance pre-war car, your search ends here.
This Bentley is in excellent running condition and is primed
for participation in historic motorsport events.

"FAST AS YOUR MUM'S KNICKERS AT A TOM JONES CONCERT"
as Stanley Mann would have said, with a smile on his face and a sparkle in his eye.
Just simply fill out the form underneath and we'll contact you directly.