1958 Lancia Aurelia
B20 Grand Tourismo
A fixed head Coupe for
high speed touring and
competitions.
First unveiled at the Turin Salon in March 1950
the Lancia Aurelia was designed as one
of the company's first ventures into motorsport.
Registration : UK registered
Chassis number : B20/3946
Engine number : B205316
Original license plate: 218XHK
2.451 cc, 6-cylinder engine, 120 hp, 4-speed manual
Grand Prix car knowledge
Based around a four-door pillar-less monocoque, theVittorio Jano designed Aurelia was equipped with fully independent suspension, worm and sectorsteering and four-wheel drum brakes. Applying his wealth of knowledge from his vast experience designing Grand Prix cars, Jano implemented further innovative features in the Aurelia, making it the first production car to use radial tyres and also the first to feature a V6 engine.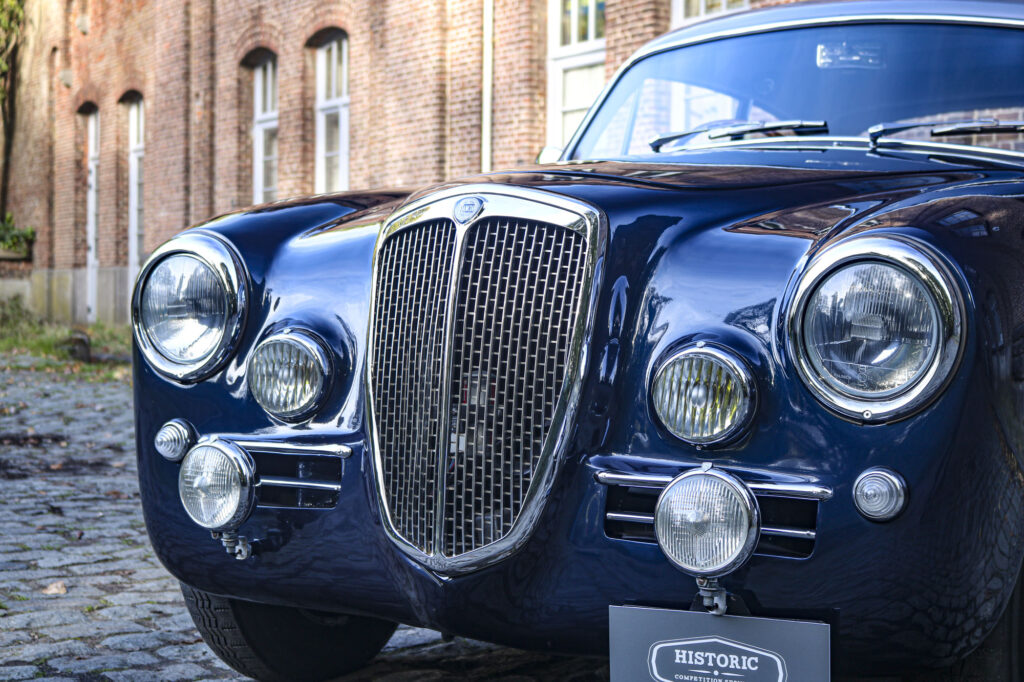 The Lancia Aurelia
presented at the
Royal Automobile Club Rotunda
in 2019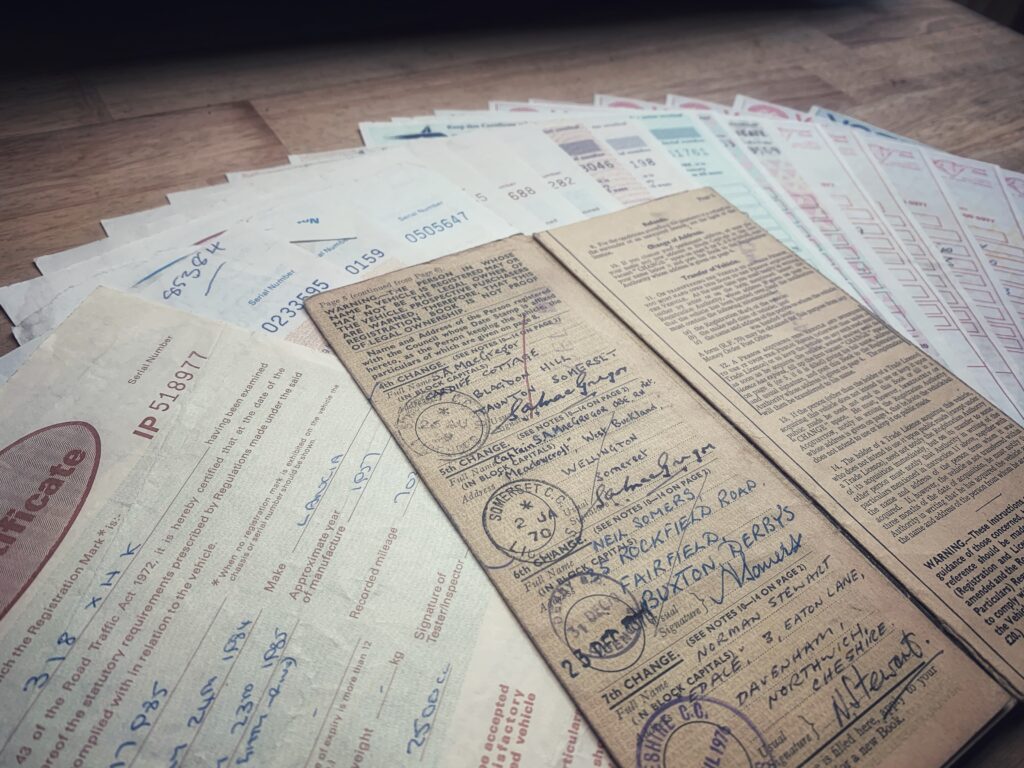 Well documented
Built on 31/03/1958 Lancia Aurelia B20 GT is a matching numbers example, as confirmed by a Lancia Certificate of Origin, and is thought to be 1 of just 25 cars supplied to the UK RHD market in period. Incredibly well documented throughout its life the history file present with the car contains a dense log of ownership and maintenance, containing a hand written ownership record from the early 60s/70s, a stamped 1961 issue buff log book and an almost complete log of MOT-certificates from 1984, helping to trace the early life of the car.
Early Aerodynamics
Dominant on the racetrack and striking on the road, the Lancia Aurelia perfectly bridged the gap between sports car and grand tourer with innovative yet elegant design. Arguably the prettiest variant in the Aurelia line-up the B20 GT adopted some early aerodynamic principles, with the beautiful fast back coupe body made up of flowing curves that hint to the cars racing heritage.

The car underwent a

bare metal and comprehensive restoration

resulting in a stunning rich navy blue and grey

metallic

paint finish

and with

perfectly

re

-

chromed parts

.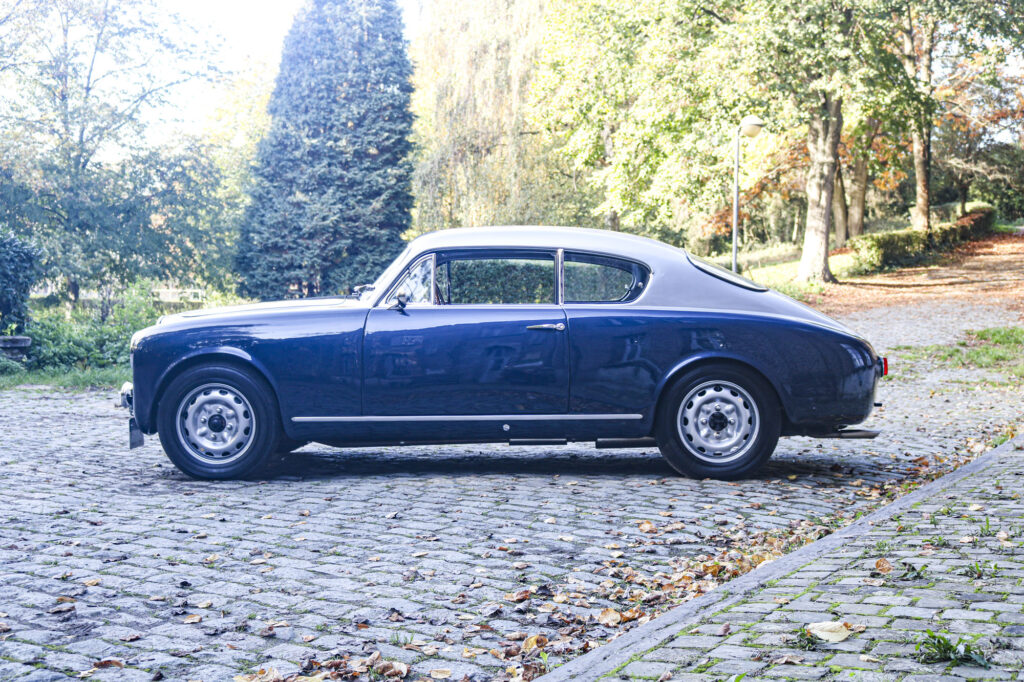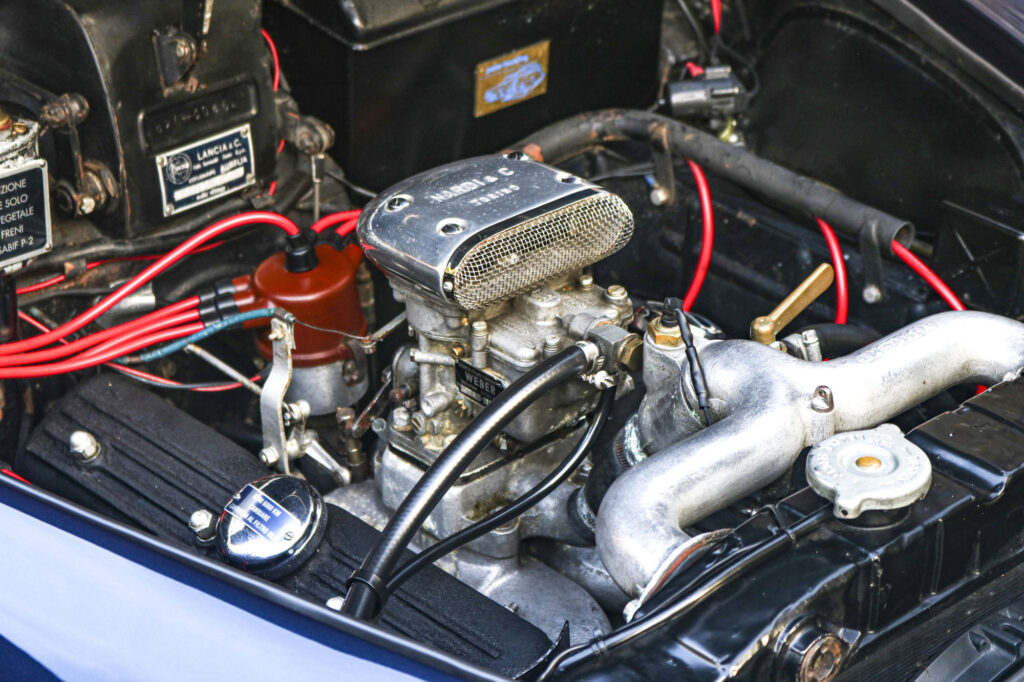 V6 2.5L engine
Ground-breaking at the time of its launch, the Lancia Aurelia was the first production car to implement a V6 engine and instantly proved a success, with famous class victories at the Mille Miglia, Le Mans, Targa Florio and Lancia's first victory at the 1954 Monte Carlo Rally. As a 6th generation car this B20 GT is fitted with the larger 2.5L engine, producing l20 bhp with a topspeed of 110mph, paired to a 4-speed manual gearbox. With a full engine and gearbox rebuild undertaken by Aurelia specialist Tim Burrett this Aurelia has been treated to regular maintenance under current owner in the hands of marque specialist Peter Harding, ensuring the mechanical condition of the car is first rate. The owner also had a branched stainless steel exhaust system fabricated to the specification of the original, providing a small weight-saving and some extra durability.
CRM wheels
Completing the classic style of this Aurelia B20 GT, the car is fitted with a period set of CMR wheels which show in excellent condition, free from any corrosion or damage. Matching Michelin X radial tyres are fitted at each corner and show with good tread depth all around. Fully independent suspension and drum brakes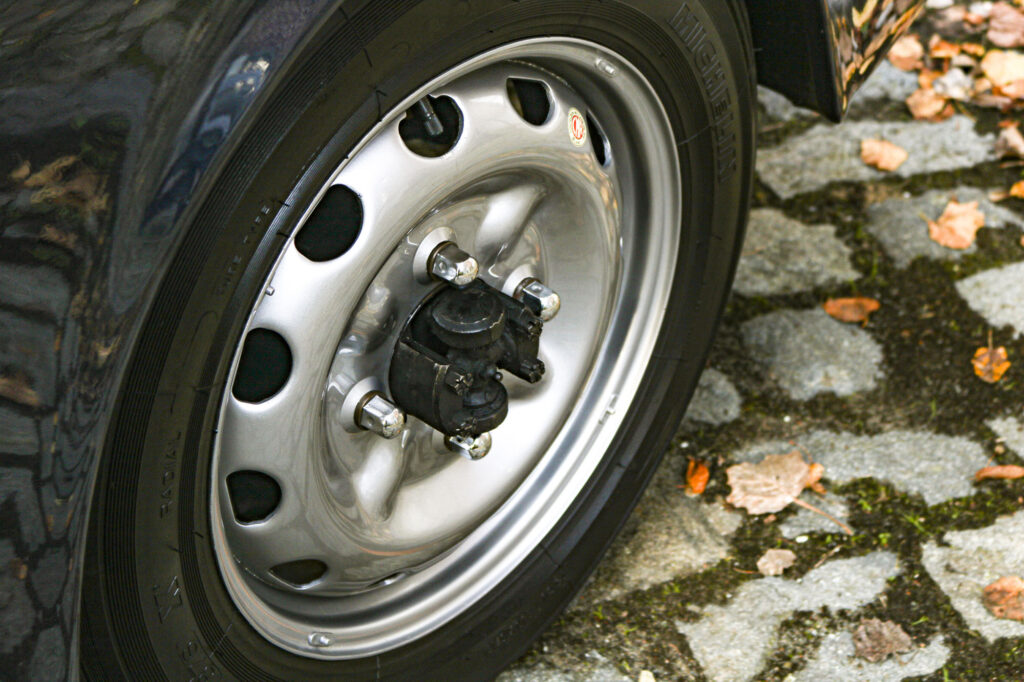 Purchased by the current owner in 2012, from another long term owner of almost 20 years,
the car was subject to a comprehensive restoration with log of invoices totalling in
excess of £50,000 with notable marque specialists Peter Harding and Tim Burren.
Major work has included an interior re-trim, overhaul of the suspension and braking systems,
and over £2lk and 384 hours of work to restore the bodywork alone to its former glory.
Here's a small grasp of restoration pictures.
Since completing the restoration the owner has used the car sparingly, enjoying the car on a
couple of European road trips and showing it at events such as the
2016 Concours of Elegance at Windsor Castle, 2018 Salon Prive at
Blenheim Palace and numerous gatherings at Goodwood.
The car was also displayed in the Rotunda at the Royal Automobile Club in
2019 which is documented in their yearbook.
Present with the car is a comprehensive history file with Lancia Classiche Certificate,
USB images of the bare metal restoration, RAC Rotunda hardback book and current UK VS registration.
Just simply fill out the form underneath and we'll contact you directly.